Quality Improvement Made Easy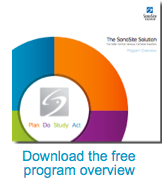 The SonoSite Solution™, a comprehensive, self-guided program, for safer central venous catheter (CVC) insertions, is now available exclusively to SonoSite customers.

The program is rooted in quality-improvement science. The Resource center can help guide you through an entire improvement cycle.

Based on the Institute for Healthcare Improvement's (IHI), "Plan, Do, Study, Act" cycle, The SonoSite Solution Resource Center guides you through an improvement cycle aiming to improve outcomes and eliminate complications by driving standardization of CVC insertions using point-of-care ultrasound.